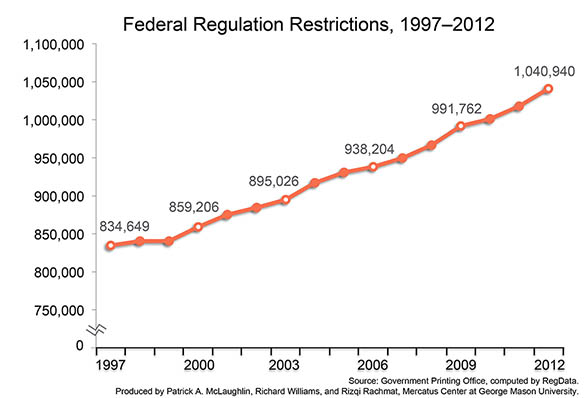 How many of those regulations are beneficial on net? How would anybody know? As Patrick McLaughlin and Richard Williams point out: "The American regulatory system has no working, systematic process for reviewing regulations for obsolescence or poor performance […] ." [Mercatus Center, May 27]
Maybe the federal government should take a cue from Minnesota and hold an "unsession":
It's no longer a crime in Minnesota to carry fruit in an illegally sized container. The state's telegraph regulations are gone. And it's now legal to drive a car in neutral – if you can figure out how to do it.

Those were among the 1,175 obsolete, unnecessary and incomprehensible laws that Gov. Mark Dayton and the Legislature repealed this year as part of the governor's "unsession" initiative. His goal was to make state government work better, faster and smarter.

"I think we're off to a very good start," Dayton said Tuesday at a Capitol news conference.

In addition to getting rid of outdated laws, the project made taxes simpler, cut bureaucratic red tape, speeded up business permits and required state agencies to communicate in plain language. [St. Paul Pioneer Press, May 27]
As the governor said: A very good start.